Free Camping in Sedona
We park and camp at the same spot every time we come to Sedona. There are no free camping areas inside Sedona, but there are some scattered just outside, with a stay allowance of 14 days. There is free camping on Schnebily Hill, but I've heard that it is difficult to get to, but worth the views. The Free Dispersed Camping just off Arizona SR 89A and Forest 525 road is the only one I can speak for. Apparently this is an alternate launch site for a Sedona balloon tour company, so breakfast views sometimes come with some nearby balloon landings.
Be prepared to share this site. The first couple pull offs are usually occupied by quite a bit of trailers and motor homes every time we come. You can drive further down the road for quieter more solo sites, we've done that for tent camping. And when we were sick of camping with the cavemen and their loud ass generators, we went as far as we could down Forest Road 525. The views get better the further down 525 you go. Some spots are right up in the red hills below Bear Mountain and they are totally secluded and actually feels like camping or quiet off the grid living.
Mountain Biking in Sedona
In the morning after you've cooked up a breakfast, head in towards Sedona for some mountain biking or hiking. There are heaps of trails just off Dry Creek Rd.
We hoped on the 7.6 mile Chuck Wagon loop. It is a hike/bike trail. For us, it was walk-a-bike in a few sections, but it was an overall really fun ride. There was enough flow-y, fun, and technical sections to make you forget any bumpy technical climb you may have just endured. It is definitely one of my favorite trails. The views are all time.
We took in the views from our pull off parking spot and snacked in the van. Since we had not been around wi-fi, we headed into the restaurant area to find a Starbucks or some place with free wifi. We hung outside of a pizza place to send some emails and make contact with the outside world.
Once we were up to speed and wi-fi'd out, we headed back towards Forest 525 Road to cook some food and catch some z's.
Aeire Trail/Cockscomb trail - After being pumped about the Chuck Wagon trail, we wanted to try some others, although we were really tempted to do it again.
We decided to try the Aeire Trail linked with the Cockscomb trail to creat the Aeire Loop, it does a 5.4 mile loop around around Doe Mountain. It was pretty chunky, but makes a nice short loop if you are short on time or if you are a eager beginner that wants a trail with some rewarding reviews. We saw people doing this trail with bike lamps at night. They were flying thru there. Made me want to get some bright ass lights and try some night biking!
After the loop around Doe Mountain, we made some food in the van and looked for a hiking trail to cap off the afternoon. We checked out our REI Hiking app and saw two nearby that looked interesting: Bear Mountain and Boyton Canyon. They were both about 2.4-2.6 miles, one-way. Since the Boyton Canyon hike seemed to just hike gradually up thru the canyon, instead of straight up a mountain, we decided to do that one, since we weren't really mentally prepared or ready to hike down a crumbly mountain in the dark. We would leave that hike for the next day.
Boyton Canyon Hike - Boyton Canyon was beautiful. At the beginning of the trail, it looked like you were hiking into a secret city. There were mind blowing houses and vacation properties, with stucco to match the hill sides they were so efficiently nestled into. There were views of the canyons for about the first 1.5 miles, then the tree canopy kind of takes away the views of the hill sides pretty much until you reach the End of Trail sign. The hike was more like a stroll, and where the "end of trail" sign is, it kind of invites you to find your own view. If you follow a little goat path to the right of that sign, it leads you up to a ledge where you can over look the canyon valley you just hiked thru. You return the same way you came in.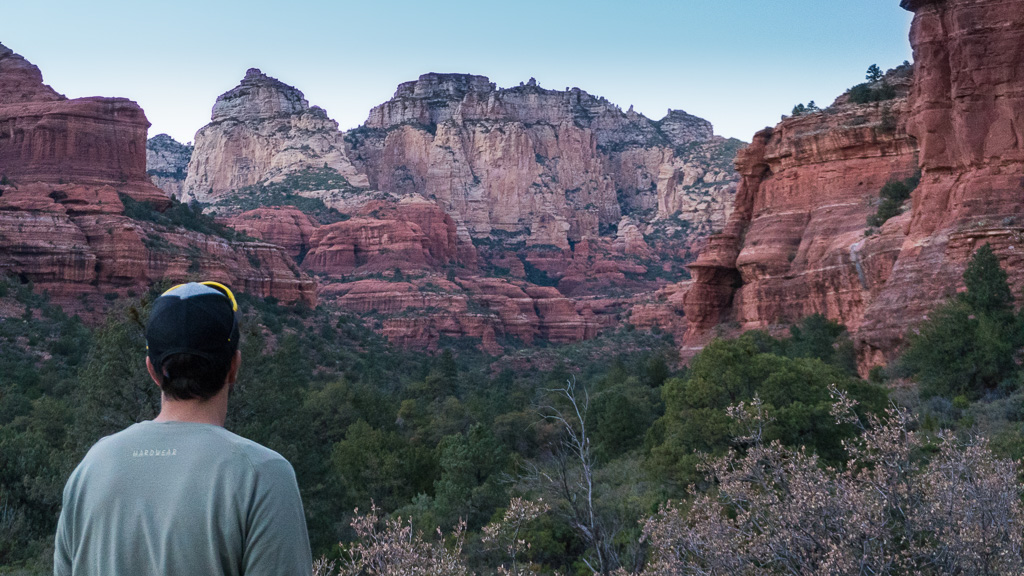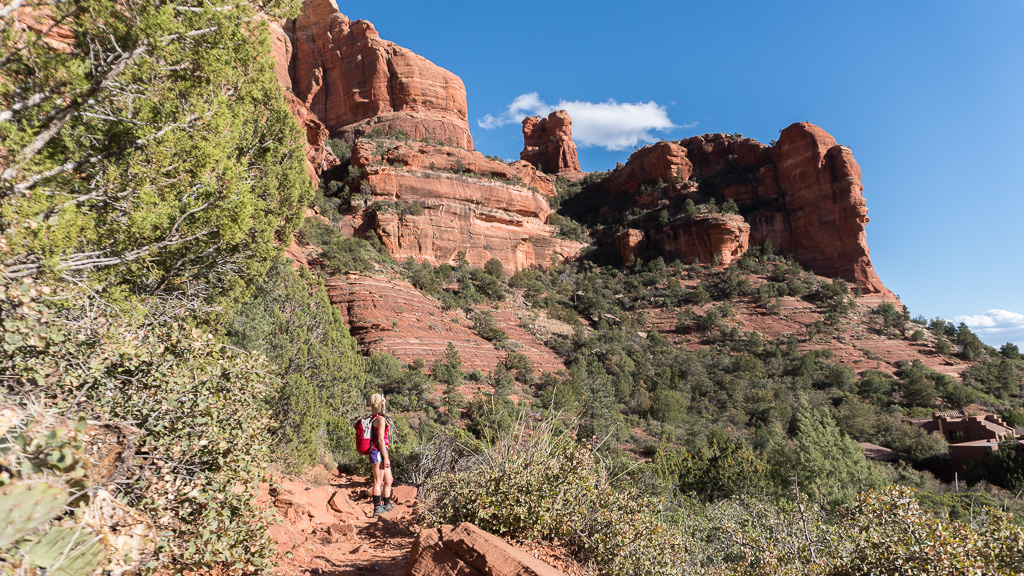 Twin Buttes Loop - At this point our stoke level is high with Sedona, we want to do everything. So we figure we need to get on our bikes to see things faster. Even if we have to walk-a-bike in sections, if we can ride partial parts of the trail, we are into it. So we hoped on the Twin Buttes loop. This was a hike/bike trail. It was pretty epic, like every part of it was up until Chicken Point. Then, it was just alright. Parts of the trail go thru neighborhoods on the pavement. It is just kind of bizarre that it is part of the same loop as the first couple epic miles of Broken Arrow.
The only lame part about this loop was all the pink jeeps EVERYWHERE, at every single vista. I found them to be very annoying. I didn't mind the Duck tours in Seattle or other big cities, because it was chaos everywhere in cities and when one of those things comes squawking by with their obnoxious blab pointing out stuff, it just blended in with all the city noise, but bloody hell, they are just obnoxious out in nature.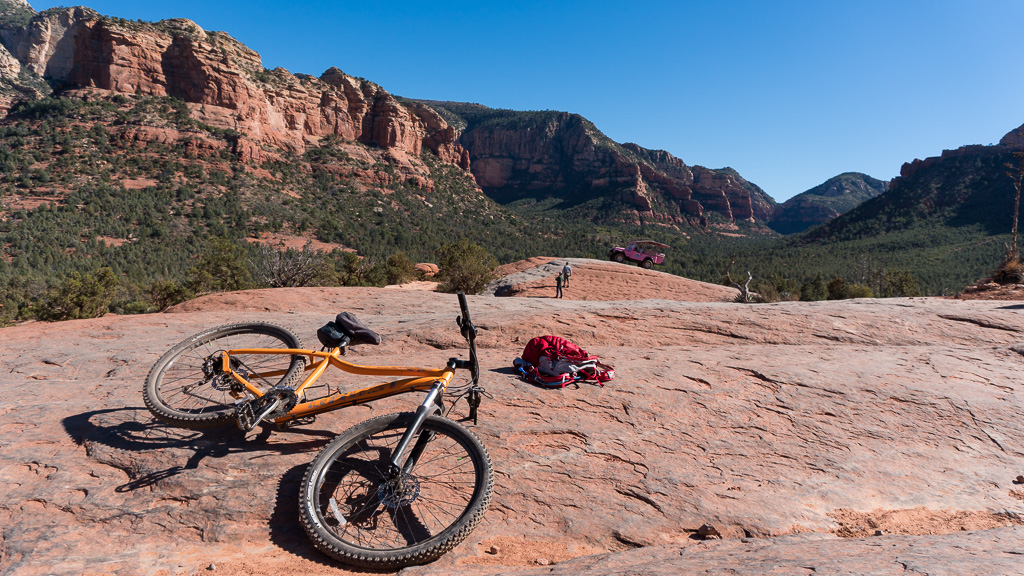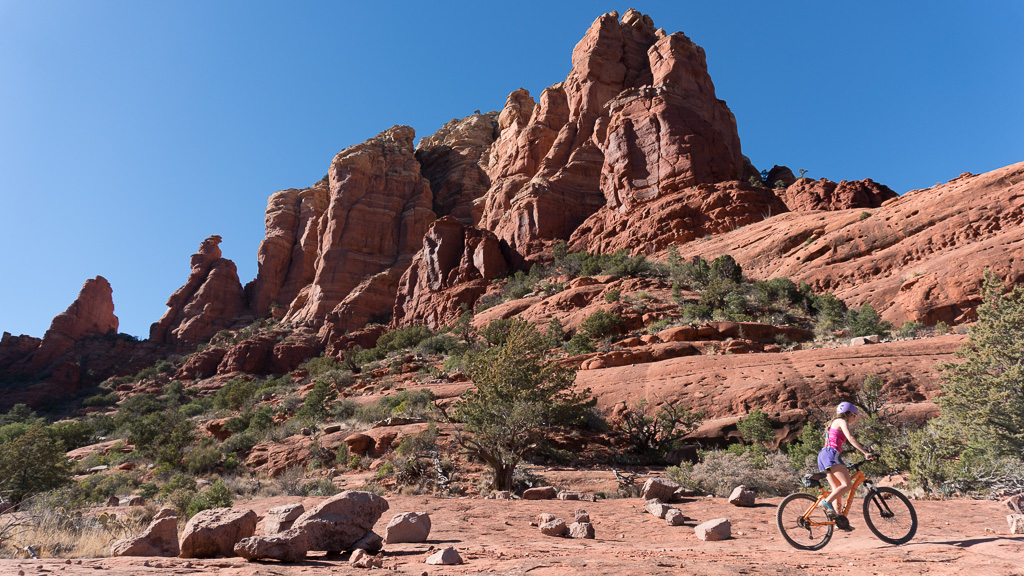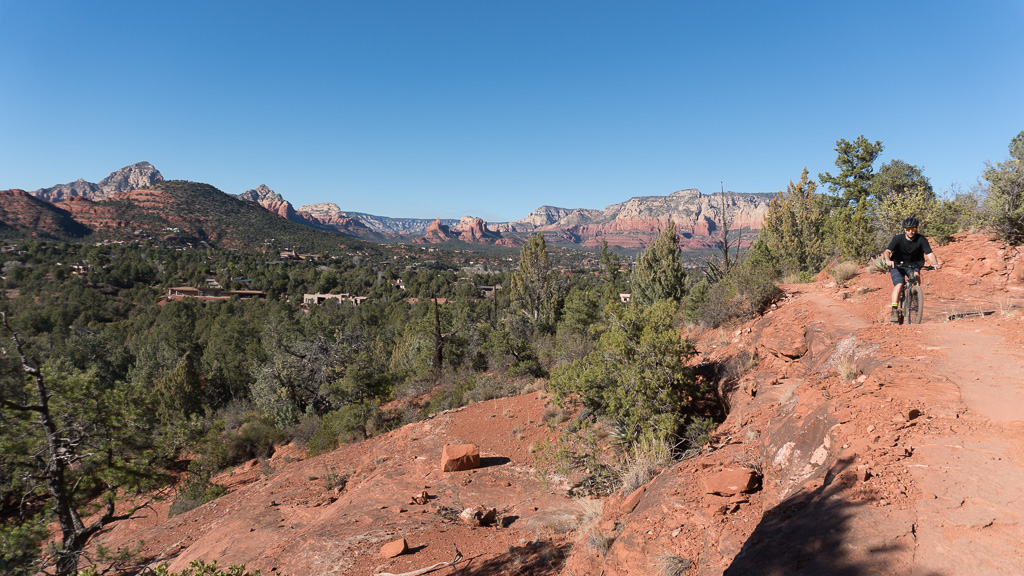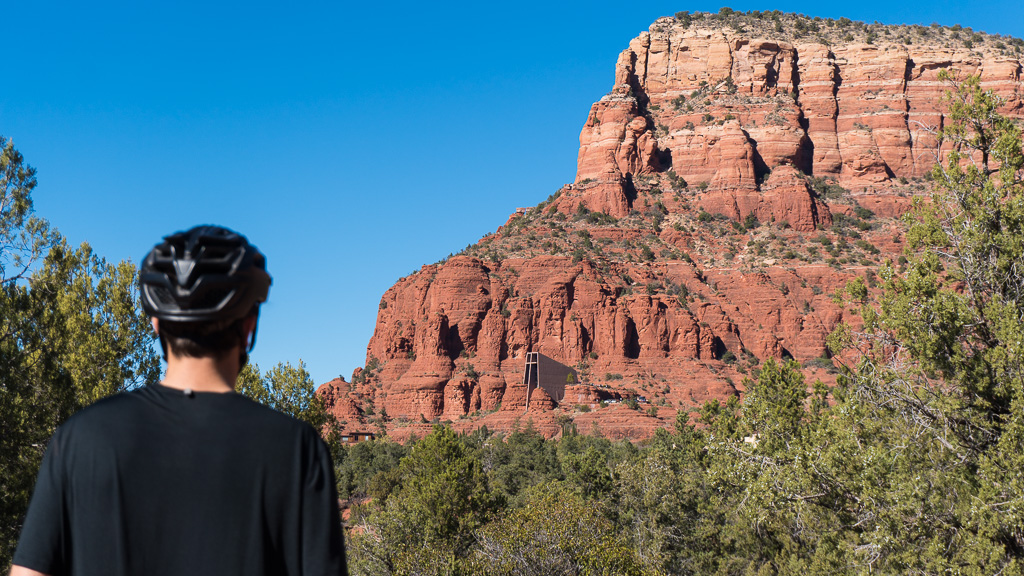 They would come one right after the other. As soon as you thought, "oh this is the time I can go and sneak a picture before anyone else is around," or just take a breath and enjoy the silence I was trying to escape to, here comes another over-enthusiastic dude romping over some hillside to turn his jeep around, precisely where you are standing. Even when the Pink Jeep tours weren't around giving tours, they were giving instruction to new members of the team. Letting them practice on the obstacles before they bring paying customers aboard. I wonder if this bothers the hell out of the locals. I really can't imagine this place during busy season, if that is the way it is in February.
All my personal annoyances aside, the views are worth the hike, bike, or hike-a-bike. When we were done with the loop, we cooked some food, strapped on our hiking boots, grabbed some head torches and hiked the Broken Arrow section again. That is how awesome the views were. This time, we had it all to ourselves, as we saw the last Pink Jeep Roll out past the mostly empty parking lot. It was so quiet, I felt I could hear the static of silence.
Bear Mountain -On this day, we got a late start. We couldn't decide if we wanted to take the day off or go enjoy Sedona before the weekend hit and the Phoenix weekend warriors come up. We decided we better get out there. So we cooked a nice brunch, packed up camp, and parked up at the Bear Mountain trail head. We got on the trail about 2:45pm, just enough time to chill, see the sunset and probably hike the last part out in the dark.
Most people don't like hiking in the dark, but we find it to be a great trade-off to have the spot to yourself. We leave enough time for the easiest part of the walk to be mostly in the dark. The hike estimated time is 4.5 hours. It took us 1:35 to get to the top and about the same to get down. If we didn't stop to take pictures every 5 steps, we may have been able to do it faster.
The hike starts out pretty easy as it slowly starts to get crumblier. Then, you start to climb to get up top of that plateau, and then climb, dip down and then climb some more. It flattens out enough after each hard climb to catch your breath before the next climb. Sometimes you have to use your hands to pull yourself over some sections. It is exactly 2.4 miles from entry to end of trail sign.
At the top, we hung out and tried to place where we were from our usual campsite. We spotted many RVs and campers so close to the rocks, we were curious as to what road they were parked, because those spots looked epic, secluded, and so far from those noisy ass generators we had been camping next to. From up on Bear Mountain, we realized you could take that same road all the way to the end and we would hit Forest Road 525, the road you can camp on for up to 14 days, free. So we started our hike down, with plans on finding our own secluded campsite. Although we found our spot in the dark, we woke up to a pretty epic views.
Because you are hiking with your back to most of the views as you are climbing the trail, the entire way down is so picturesque. We literally stopped so often, just to take in the views. The view from any summit is rewarding, when you make the effort to get to the top, but I felt like the summit views weren't as amazing as the rest of the hikes views. I am only mentioning this because if you were tired, and didn't feel like you could finish the entire hike then, any of the vistas that you pass on the trail will make up for not making it to the top. So don't beat yourself up if you can't make it to the top. Just take in the views.